Kolkata, the cultural capital of India, is known for its rich heritage and delectable cuisine. Among the many culinary delights it offers, buffets have become increasingly popular in the city. Whether you're a local looking for an affordable and satisfying meal or a visitor eager to explore the diverse flavors of Kolkata, this article will guide you through the cheap and best buffet options in the city. We will cover famous dishes, locations, and timings, and answer frequently asked questions to help you make the most of your dining experience. Guide To the Cheap and Best Buffet in Kolkata with a price. List of the best buffets in Kolkata. Best Indian Buffet in Kolkata for both meat lovers & vegetarians.
Famous Dishes in Kolkata Buffets
Kolkata is famous for its unique culinary traditions, and buffet restaurants in the city often highlight local favorites alongside international cuisines. Here are some of the famous dishes you can expect to find at these buffets:
Biryani: No visit to Kolkata is complete without savoring the city's renowned biryani. Whether it's the aromatic Kolkata biryani with its potatoes or the succulent mutton biryani, you're in for a treat.
Kosha Mangsho: A flavorful Bengali mutton curry slow-cooked to perfection with aromatic spices. It's
Best buffet in Kolkata with a price
The Village, New Town – INR 1000, Cost for 2
Barbeque Nation, Park Street – INR 1500, Cost for 2
Waterside Cafe – Grand Hyatt Regency, Salt Lake – INR 3000, Cost for 2
Casa Kitchen, Minto Park – INR 700, Cost for 2
6 Ballygunge Place, Ballygunge – INR 1700, Cost for 2
Chapter 2, Mani Square Mall – INR 1300, Cost for 2
Sigree Global Grill, Science City Area – INR 2000, Cost for 2
La Cucina – Grand Hyatt Regency, Salt Lake – INR 2000, Cost for 2
Rajdhani Thali, Park Street – INR 1000, Cost for 2
JW Kitchen, Science City Area – INR 3000, Cost for 2
The most difficult decision for any foodie is deciding whether to order a la carte or a buffet when dining out. People frequently prefer buffets because they provide unlimited food.
The concept of an all-you-can-eat menu is perhaps the best part about a reasonably-priced buffet. A typical buffet menu includes starters, a main course, and dessert, as well as the entire meal. Everything you'd eat in a typical full-course meal if you went out to eat. Some establishments even include a complimentary drink with your buffet, which is the icing on the cake!
A lavish, unlimited buffet is always a food lover's paradise, no matter what meal of the day it is. If you're feeling lazy and don't want to cook, you're probably going to the nearest restaurant that serves buffet meals and diving right in to satisfy your hunger and keep your taste buds happy with the delicious dishes these buffets have to offer. Buffets are available in almost every cuisine.
The city of joy, Kolkata, has many places that serve buffets of various types, such as breakfast buffets, lunch buffets, dinner buffets, Sunday brunch buffets, authentic Bengali cuisine buffets, and midnight buffets, and buffets with unlimited drinks. You name it, it's there. In fact, there are so many options that it is difficult for food lovers to decide which one to visit, and they frequently return to the same location because they have already tried and liked the dish on their buffet menu spread and do not want to try any new places.
Here are some of the best restaurants that serve sumptuous buffets with mouth-watering food from a wide range of popular cuisines in an international buffet, both veg and non-veg options for both meat lovers and vegetarian friends.
Cheap and Best Buffet lunch in Kolkata
1. The Village, New Town
INR 1000, Cost for 2 | Open in Google Maps
Let's begin with one of the most reasonably priced buffets that offer some really good dishes that will leave your taste buds and stomach in awe. The Village is well-known for being one of the best places to have a buffet at any time of day, serving buffets in Chinese and North Indian cuisines. Their lunch buffet, in particular, is our favorite; they offer a diverse menu that will have you open the button on your jeans at the end of your meal.
Along with a diverse menu, the taste of each dish is very tasty and will leave their guests in a state of euphoria. To keep things interesting, you have a different spread for weekdays and weekends.
On weekdays, their buffet spread includes Hara bara kebab, paneer butter masala, and fish croquette, while on weekends, you must try their: Papdi pizza with grilled veg, Thai fish curry, Bhatti Ka Murgh Angarre, Malpua with Rabri, and Coconut Pudding with Nuts. The extensive menu and delectable food for INR 500 plus tax is a steal! You will be unable to resist the buffets offered here, and you should definitely keep this place on your list of places to visit in Kolkata to try their buffet.
2. Barbeque Nation, Park Street
INR 1500, Cost for 2 | Open in Google Maps
If you're a foodie, you've probably heard of Barbeque Nation. This chain restaurant is well-known throughout the country and offers some of the best buffets in town. The entire concept of this restaurant has piqued the interest of guests and drawn a sizable crowd for that reason alone. The concept of having an unlimited number of barbeque starters until you say no. Because the starters are so delicious, most of the guests, including some of us, never even get to the main course and just keep eating them until we're full.
We did, however, try their main course once out of curiosity, and boy did we regret not having it all the time before! Their dal makhani and biryani are among the best you'll ever try.
You should definitely try their Kadai chicken, which is finger-licking good! It's safe to say that Barbeque Nation is currently the city's number-one restaurant for grilled food. One thing we love about barbeque nation is that, despite its enormous popularity, its taste and service levels have not dipped; they are still at the top of its game, which is why it is loved by everyone, not just food lovers like us!
It's a great place to go with your family for a delicious dinner or with your friends to hang out and have a good time while eating delicious food!
3. Waterside Cafe – Grand Hyatt Regency, Salt Lake
INR 3000, Cost for 2 |Open in Google Maps
This must be on your list of buffet places to visit if you want to indulge in a luxury fine dining experience with live music and outdoor seating. You have a massive spread of dishes on the buffet here, so massive that you'd probably be full before even trying all of them. You should visit the restaurant at least twice because each and every dish they serve is delectable and nutritious; you must try each and every one of them to appreciate the food they prepare and thank the chefs for satisfying your taste buds.
The reason for going at least twice is that you won't be able to try every dish in one visit due to the wide variety they have made available to their guests! If you can't have it all, try their signature dishes, which include beef, the entire dessert counter, pizza, and authentic Chinese dishes. Another unique aspect of Waterside Cafe is the midnight buffet they provide. The buffet is available from midnight until 3 a.m., and let me tell you, they have one of the most extensive buffet menus available.
It's one of the most excellent buffet restaurants in the city of joy. To top it all off, the restaurant has a very aesthetic appeal, with pleasant lighting, and is a real treat for the eyes. The waterside cafe is regarded as the best buffet in the city. If you want to experience luxury fine dining and amazing food in Kolkata, you should definitely keep this one on your list, and at the top of your list!
4. Casa Kitchen, Minto Park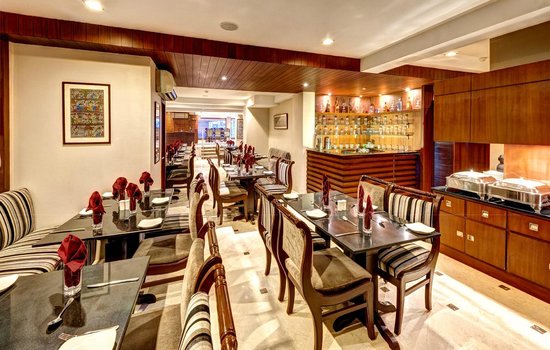 INR 700, Cost for 2 | Open in Google Maps
When it comes to buffet restaurants, I know there aren't many options for vegetarians. Bengalis love their meat, and the majority of places that serve buffet serve both non-veg and veg, but more often than not, the menu is primarily comprised of non-veg dishes, with a couple of vegetarian dishes thrown in for good measure to keep the option of a non-veg buffet on their menu.
Which, to be honest, isn't fair to our vegetarian friends. But don't worry! As previously stated, today's list has something for everyone, and there are options for our vegetarian friends as well.
Casa Kitchen is the F&B outlet at Hotel Casa Fortuna that is a 100% vegetarian restaurant that serves only vegetarian dishes. They primarily serve North Indian cuisine, and the quality and taste of their food speak for themselves; if you're a vegetarian and a foodie, you'll fall in love with Casa Kitchen right away, the food is that delicious!
You can get everything from hot and fresh kachoris to drool-worthy pav bhaji, fresh juices, melting cheese potato shots, flavored yogurts, fruits, and donuts!
Also Read: Cheap and Best Rooftop Restaurants in Kolkata
Casa Kitchen also has a live counter for South Indian dishes, which is an added bonus! Casa Kitchen is worth every rupee and you'll surely not regret it!
5. 6 Ballygunge Place, Ballygunge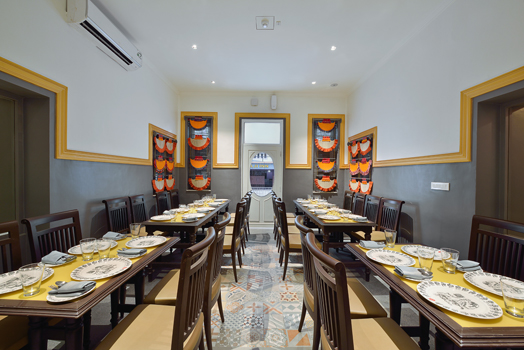 INR 1700, Cost for 2 | Open in Google Maps
6 Ballygunge Place is an authentic Bengali restaurant, and if you're in Kolkata, this is unquestionably the place to go. You'll find a wide range of contemporary and traditional Bengali dishes, some of which date back to century-old recipes. You're in for a treat at 6 Ballygunge Place, and be prepared to have your mind blown by the amazing decor and interior the place has, you'll feel like you've stepped into a pre-raj era setting, and you'll only do two things when you visit 6 Ballygunge Place, eat and take photos!
It is also regarded as one of the city's first fine-dining establishments. Their buffets are extremely popular, and if you ask where you can find authentic Bengali cuisine, you'll be directed here.
Dab chingri, Dhakai pora mangsho, the Hilsa, mochar chop, bhapa eilish, aloo posto, chholar dal, baked sandesh, mishti doi, and nolen gur ice cream are some of the must-try dishes on the buffet menu. To ensure freshness and top-notch quality and taste, the fish and meat used in the preparation of these authentic dishes are all fresh and sourced from the best suppliers in Kolkata.
If you've ever wanted to try Bengali cuisine, this is a great place to start. Make a point of visiting this restaurant at least once to indulge yourself and get a taste of Bengali cuisine.
6. Chapter 2, Mani Square Mall
INR 1300, Cost for 2 | Open in Google Maps
Next on the list is a restaurant that has quickly become well-known and popular. The restaurant is themed entirely in a retro style, with the goal of reviving the Park Street nightclub scene of the 1960s and 1970s. Buffet near me Chinese restaurant promises to reintroduce Anglo Indian cuisine and live music culture.
You'll be awestruck by the decor and interiors of the place, which is full of vibrant colors and tacky interiors that make it one-of-a-kind and will ensure you don't forget it. The red Cadillac in front of the bar is probably the most eye-catching feature of the entire establishment! Every day, you can hear some of the oldest bands perform live music.
All of this is great, but it isn't the main reason for Chapter 2's fame; the main reason for Chapter 2's fame is their massive 21-course lunch buffet! That's right, there's a 21-course buffet for you to feast on and enjoy, and it's safe to say that every item is equally delicious. The variety on offer in Chapter 2 will seriously spoil you. To give you a taste of what's in store for you when you visit Chapter 2, here's a list of our favorite foods from their menu: Main courses include pepper chicken wings, chili prawns, chicken wonton, chicken Manchurian, and fish in hot garlic sauce.
Finish with something sweet, such as Plum Cake, Fruit Custard, or Mousse. You may need to wear pants that are a size larger than your original fit because you will almost certainly gain weight when you visit Chapter 2!
7. Sigree Global Grill, Science City Area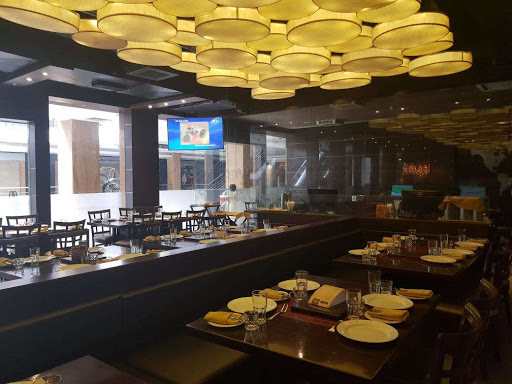 INR 2000, Cost for 2 | Open in Google Maps
This is yet another restaurant that serves a buffet with a unique twist. They specialize in grilled food, much like the Barbeque nation. They are known for their Afghan, North Indian, and Mughlai cuisines. The buffet menu is quite extensive, but the main attraction is undoubtedly the starters; you can enjoy grills from all over the world, and their presentation of the grills is distinctive to their own style.
You'll probably have to fast the entire day in order to enjoy the entire buffet spread at Sigree Global Grill, but it's well worth it. You even have a live kitchen counter where you can watch your delicious pasta and chaat items being prepared, which makes you even more hungry.
To keep things interesting, they have a different buffet menu spread every day. Their signature dish has to be the Japanese teriyaki chicken and occasionally the Argentine fish chimichurri, both of which are utterly delicious and could easily fill you up on 2-3 servings. It's one of those places where everything on the menu is delicious. The atmosphere is quite cozy, making it ideal for both a family outing and a nice evening with friends to hang out.
The staff is also very friendly and welcoming, which contributes to the overall ambiance and experience. Some of the must-try dishes on the menu include Bhatti Murgh masala okra and aloo, Kosho Gosht, and authentic Chicken Dum biryani. Desserts such as Gulab jamun, moong dal ka halwa, caramel custard, and malpua are delicious.
8. La Cucina – Grand Hyatt Regency, Salt Lake
INR 2500, Cost for 2 | Open in Google Maps
La Cucina is the place to go if you want to eat authentic Italian food. This will be a fine-dining establishment that exudes luxury and grandeur. The chefs' creations in their extensive Sunday brunch menu spread are incredible. Once you're done, you'll find yourself licking your fingers. Their interior design and decor scream elegance. It just sits perfectly, from the spacious seating to the wood-earth theme décor to the open vine cellar to showcase their collection to the open live kitchen area. They have a wood-fired pizza oven that will deliver a taste of Italy to your plate.
This restaurant is also ideal for vegetarians, as their extensive buffet menu includes many vegetarian options. One of the best things about the Sunday brunch at La Cucina is that the majority of the items from the spread are served at your table, leaving only a small portion of the buffet menu for guests to go get for themselves. It's a Sunday, you're in a fine-dining restaurant, you deserve at least this much pampering! Stuffed pasta, Classic Tiramisu with Kahlua, and Spinach Ravioli are just a few of the dishes you must try at La Cucina.
9. Rajdhani Thali, Park Street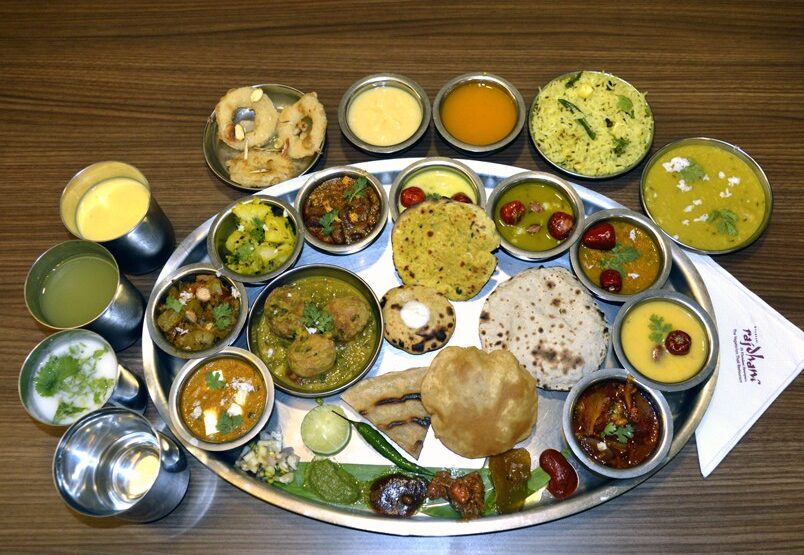 INR 1000, Cost for 2 | Address: 21, Mother Teresa Sarani, Esplanade, Janbazar, Taltala, Kolkata, West Bengal 700016
This is yet another vegetarian foodie's dream come true in Kolkata! Rajdhani specializes in Rajasthani and Gujarati cuisine. When the thali is placed in front of you, you will truly feel like a king. It's a huge thali, and once all of the items have been served, there isn't even a speck of space left in it.
At Rajdhani, the entire buffet system works differently; you won't have to leave your table; the food will come to you, whatever you want, whenever you want. Isn't it fantastic to have unlimited servings delivered to your plate at your command? You can devote all of your energy to consuming as much food as possible.
We strongly advise you to fast for the entire day before visiting this restaurant, as the massive spread of 32 dishes, with unlimited servings, should not be underestimated. The staff is extremely pleasant and always willing to help!
As soon as you enter the establishment, you are greeted by a week on your forehead, and you will be asked if you want anything, if everything is alright, if the taste of the food being served is satisfactory, if there are any special requests, and they simply want to ensure that you are having the best time possible, which is fantastic because it adds to the overall experience.
We recommend that you try each and every one of the 32 dishes prepared, but our personal favorites were Dal Bati Churma, Dhokla, Aloo Matar Ki Sabzi, and Shrikhand. Have the buttermilk they serve as well; it's delicious. On Tuesdays, you can get a special discount and order the humongous thali for just INR 250!
10. JW Kitchen, Science City Area
JW Marriott Kolkata buffet menu, INR 3000, Cost for 2 | Open in Maps
JW Kitchen is the last restaurant on today's list. This is yet another excellent ultra-luxury fine-dining option in Kolkata! The extensive buffet menu at JW Kitchen will provide you with the most euphoria. Continental, Thai, Mediterranean, and North Indian cuisines are all represented. This is a place where you can take your family and simply enjoy the food and ambiance while appreciating the luxe decor and interior; once inside, you'll feel like you're walking through a very premium and exclusive jewelry store, that's how the interiors are!
High-rise ceiling spread out and spacious seating arrangement, ample lighting, huge windows showcasing a beautiful view of the outside and white marble flooring, and the elaborate spread of mouth-watering food that is showcased with elegance, to the point where you won't want to pick up food from the spread for fear of spoiling the amazing and impeccable presentation of food that they've done!
But only until you've tried it; once you've tried it, you won't be able to stop yourself from ordering another serving because the food is that good! Their seafood chowder, hazelnut ice cream, and mud pie are all must-tries!
The Best Buffets in Kolkata: An Affordable Feast for All
As you explore the city's rich culinary landscape, you'll find that Kolkata's buffet scene not only offers a range of delicious dishes but also provides an affordable dining experience. Whether you're a student on a budget, a family looking for a convenient way to satisfy diverse tastes, or a group of friends eager to explore different cuisines, buffets in Kolkata can be the perfect solution.
Here are some tips to make the most of your buffet experience in Kolkata:
Variety is the Spice of Life: The beauty of a buffet is the opportunity to sample a wide variety of dishes. Start with small portions of everything that interests you, and then go back for seconds of your favorites. Don't hesitate to try dishes you've never had before – this is the perfect chance to expand your culinary horizons.
Timing Matters: Consider the timing of your buffet visit. Lunch buffets are usually priced lower than dinner buffets, making them a great option for a budget-friendly feast. Additionally, weekdays may offer better deals compared to weekends.
Reservations and Waiting Times: As mentioned earlier, reservations are a good idea, especially for popular buffet spots. Even if you don't have a reservation, arrive early to avoid long waiting times. Remember, buffets can get crowded, so planning ahead is essential.
Hygiene and Safety: Ensure that the restaurant you choose follows strict hygiene and safety protocols. Look for online reviews and ratings to gauge the reputation of the restaurant in this regard.
Special Offers and Discounts: Keep an eye out for special promotions, discounts, and loyalty programs offered by buffet restaurants in Kolkata. These can help you save even more on your dining experience.
Also Read: Cheap and Best Rooftop Restaurants in Kolkata
Union Budget 2022:What gets cheaper and what gets more expensive?

Frequently Asked Questions (FAQs)
Are buffets in Kolkata suitable for vegetarians?Absolutely. Most buffet restaurants in Kolkata offer an extensive range of vegetarian options, ensuring that vegetarians can enjoy a satisfying meal with a variety of dishes that cater to their preferences.
Do I need to make a reservation for buffet dining?While it's not always mandatory, making a reservation is advisable, especially during peak dining hours and weekends. Reservations help secure your table and can save you from lengthy waiting times.
Is it safe to eat at buffets in Kolkata?Yes, restaurants in Kolkata adhere to strict hygiene and safety protocols. It's always a good practice to choose restaurants with good reviews and ratings that show their commitment to maintaining high standards of cleanliness and safety.
Can I take my children to buffet restaurants in Kolkata?Most buffet restaurants in Kolkata are family-friendly and provide special pricing for children. Buffets can be a fantastic way to introduce your kids to a variety of cuisines and dishes.
What are the must-try dishes at a Kolkata buffet?Don't miss out on the iconic biryani, the flavorful Kosha Mangsho, the traditional Macher Jhol, and sweet delights like Rosogolla and Mishti Doi. These dishes epitomize the essence of Kolkata's culinary offerings.
What is the average price range for buffets in Kolkata?Buffet prices in Kolkata can vary widely depending on the restaurant's location and the range of dishes they offer. On average, you can find buffets starting at around INR 300 per person and going up to INR 1500 or more for high-end buffets. It's essential to check with the restaurant for the most current pricing information.
Can I expect international cuisines at Kolkata buffets?Yes, many buffet restaurants in Kolkata include international options alongside Indian dishes. You can often find dishes from various international cuisines like Chinese, Continental, and more, making it a great opportunity to explore diverse flavors.
Are there any specific dress codes for buffet restaurants?Most buffet restaurants in Kolkata have a casual dress code, meaning you can dine comfortably in casual wear. However, it's a good idea to check with the specific restaurant, as some high-end buffets might have a more formal dress code.
Do buffet restaurants in Kolkata cater to special dietary requirements?Many restaurants are accommodating to dietary preferences and restrictions. It's advisable to inform the restaurant staff about your dietary requirements or allergies, and they will usually make efforts to accommodate your needs.
Are alcoholic beverages included in buffet prices?In most cases, alcoholic beverages are not included in buffet prices and are billed separately. You can enjoy a range of beverages, including alcoholic and non-alcoholic options, to complement your meal at additional cost.
Conclusion
In conclusion, Kolkata's buffet scene offers an array of delectable dishes, from traditional Bengali flavors to international cuisines. The city's diverse and affordable buffet options ensure that everyone can enjoy a hearty meal that suits their preferences and budget. With a focus on hygiene and safety, you can dine with confidence, knowing you're in for a delicious and satisfying experience.
So, whether you're a local or a visitor, make the most of your time in the City of Joy by exploring the cheap and best buffet options it has to offer. From mouthwatering biryani to flavorful Kosha Mangsho and sweet treats like Rosogolla, Kolkata's buffets are a delightful journey for your taste buds. Gather your family and friends, make a reservation, and embark on a culinary adventure that will leave you with lasting memories and a satisfied palate. Enjoy your buffet experience in Kolkata, where affordability meets indulgence!