Top Best Rooftop Restaurants in Kolkata
Welcome to our website you are in the right place if you are looking for the best rooftop restaurants in Kolkata. Here I am going to tell you which are the
best rooftop restaurants in Kolkata
with good quality food at low rates with the Perfect View. You are in the perfect place if you are looking for
Cheap Rooftop Restaurants In Kolkata
.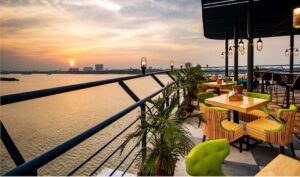 If you are looking for a perfect view spot to enjoy a great spread of some delicious food then some alfresco dining may be exactly for you. You are lucky because there are some great options in the city when it comes to open-air restaurants in Kolkata.
The restaurants below are the best in the city keeping in mind a bunch of different factors like ambience view to serve better and on different budgets.
Cheap Rooftop Restaurants In Kolkata see
Here is the Top best rooftop restaurant in Kolkata that you should check out :
1. @49 Restaurant
The cheap and best place for you, if you are looking for a rooftop restaurant and you are situated in North Kolkata then this place is best for you. There are a few options that can make an exception for this restaurant.
 @49 is a small Indo-Chinese restaurant the best thing about this place is not the menu or the dishes served but the ambience and the rooftop itself.
  My advice would be don't go here if you are expecting mind-blowing food. This place is famous for its quaint view and the Charm of North Kolkata. The restaurant is a refurbished old
North Kolkata
house and dining in one isn't an experience you can easily have. Most people visit the student to have a good taste of the food here this list is about the best rooftops in Kolkata.
Address:- 116, Vivekananda Road.
   Near YMCA Hostel, Maniktala, Kolkata.
Famous Food:- Noodles, Sweet Corn Soup, Dragon Chicken, Manchow Soup, Tandoori Chicken, Roti, Chowmein
Cost for two:- ₹ 600 only
2. What's Up Cafe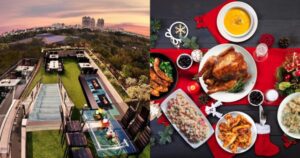 This quite modish open-air restaurant and pub are very
famous
for all in the busy street of Southern Avenue. They have an outstanding meal on a very low budget including their gorgeous rooftop beautifully decorated with lights that are more attractive in launch and club. They also have a miniature foot jacuzzi – spa-like seating. Here you can dip your feet like a pedicure, while doing that you can sip on some beers and cocktails and enjoy having some delicious different food items that they have on offer.
 Try to reserve a table (or a jacuzzi) because this place is packed more often. This restaurant is on the very top of the building, you may have to walk up so be prepared for it. This place is also the best place to hang out for young kids, both college and straight out of college, or a group of young kids enjoying a night out. This place is to be full of energy laughter and conversations with the latest tracks over the sound system to keep everyone in the groove.
 I say this is the best rooftop for a young crowd and is probably the best rooftop restaurant in Kolkata.
Address:- 122 A, Southern Avenue, Kolkata
Famous food :-. Chocolate Shake, Cocktails, Chaat, Pie, Mocktails, Meat Lover Pizza, Virgin Pinacolado
Cost for two:- ₹ 1,000
3.  Baccara Club Lounge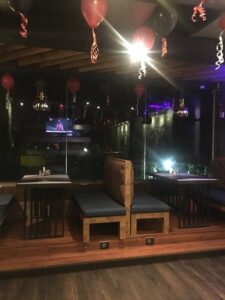 The Bhawanipur situated restaurant has a positive impact on people. They offer what most of the other places in the city don't.
The restaurant looks ancient as the backdrop of the restaurant is from the Mughal era and the whole wife is of Mughal opulence and decadence. There aren't any chairs or tables, but the place is set up beautifully and decorated with several Shamianas or mattresses arranged for a floor city under a sort of Indore gazebo. For those who prefer chairs, there are some of those as well.
Their in-house DJ plays, rocking music, which makes the environment more energetic. This place is perfect for all mainly those who want to chill out with hookah and eat a spread of food right in bed.
Here they have the best hookahs in the city, making memories ú this best rooftop restaurant in Kolkata.
Address:- 2, Dr Rajendra Road, Bhawanipur, Kolkata
Famous dishes:- Mocktails, Kit Kat Shake, Pasta, Chicken Popcorn, Virgin Mojito, Peri Peri Chicken Wings, Chilli Garlic Noodles.
Cost for two: Rs 800
4. The Wise Owl Steakhouse, Hindustan Park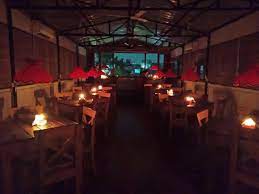 It is located in one of
Kolkata's busiest neighbourhoods
, you can find Wise Owl just near Hindustan Park. The cafe steakhouse is on top of the building. During the winter season, the rooftop restaurant is also known as one of the best brunch places in Kolkata. The winter sun and little breeze on the terrace make for a great setting to enjoy a meal. You all can nicely be chilled out in this cafe with the fabulous atmosphere having good food and company. I say you must keep this restaurant on your to-visit list.
In the winter or during autumn twinkling lights and warm wooden accents. While in summer the evening of this place is much better, their menu sports different question options but has more variety for continental and American dishes as well. It is very famous for those who love to eat meat as a haven. Here you will get everything from chicken, and pork to beef.
You all can enjoy your meal here with a cold mocktail for a nice hot drink in the winter or shakes in the summer months.
Note: They don't serve any alcohol but the customers love any of their iced teas, cold coffee, and more steaming cups of flavourful tea.
Address:- Rooftop, 66/2B, Purna Das Road. Hindustan Park, Kolkata.
Famous food:- Chicken Sizzler, Pork Chops, Beef Steak, Chicken Croquettes, and Chicken BBQ Wings.
Cost for two: Rs 1000
5. Zucca Lounge
The wooden interiors and flooring of this place give the place a warm, inviting appeal with lots of comfortable seating arrangements and lively music that helps to set the mood and this is well known as the delightful setting of Zucca Lounge.
This place has decorated White themed, they also have cabanas as per the choice spot. Here the menu is quite expensive as well, so you have to be a bit careful what you order after seeing the menu price.
Rooftop sitting is only open after 6 pm, so make sure that you don't show up expecting to have lunch on the rooftop.
Address:- P 264C, Hemanta Mukhopadhyay Sarani, Southern Avenue.
Famous Food:- Tandoori Paneer Tikka, Chicken Garlic Kebab, Loaded Nachos, Chilli Garlic
Cost for two: Rs 1,500
6. Noir Skybar Lounge
This is one of the best rooftop restaurants in Kolkata, to visit during the winter season. This please has multiple options for comfortable seating as well as for a fully functioning jacuzzi on the premises.
You can enjoy intimate means sitting under cute canapes, savouring delicious bites from a delightful menu.
Their Sizzlers are very popular and it's very tasty to eat, the best dish to eat and chill in the air.
To have more fun you can ad refreshing drinks to make your meal even better and make it a memorable dining experience.
Address:- Hotel Golden Tulip, DD 19, Sector 1, Salt Lake.
Famous Food:- Kit Kat Shake, Lahori Murgh Sizzler, Crispy Chilli Bayern.
Cost for two: Rs 1,500
7. Club Fenicia

If you feel that dining on the rooftop overlooking the city should be accompanied by a feeling of grandeur, then Club Fenicia should be your perfect destination. This place offers a lot of varieties, which makes it a memorable experience depending on how you want to enjoy the night.
Chill out with your friends at a glint, the 
luxury lounge
features exclusive luxury gazebos, a private cabana with exclusive butler service on Wi-Fi pager call, they also have automatic chiller tables with Bluetooth connectivity. Bartenders will help you to enjoy the night by giving you some amazing concoctions to start your evening.
The rooftop bar and restaurant offer one-of-a-kind panoramic views of the sunset through its private sun house domes! Here you can enjoy sitting on your favourite drink as you take in the stunning vistas.
Address:- 10th Floor, Tower 1, Godrej Waterside, DP Block, Sec-V, Saltlake
Famous Food:- Cantonese Meal, Asian Wasabi Brownie, Kerala Fried Prawns, Berry Assiette.
Cost for two:- Rs 2000 (approx)
8. Blue and Beyond, New Market Area
Blue and beyond is the place where you can head to a wonderful view. This place has a good crowd, if a rooftop restaurant is what you want then this is the place to be.
The restaurant has taller buildings in the new market area, which houses the Lindsay Hotel.
The best thing about this place is when you are dining here, you can enjoy a gorgeous view and a lovely
atmosphere
, sitting high up above some of Kolkata's most venerable monuments, from the Victoria memorial to the monument itself. Here the menu is a combination of Indian, Mediterranean, North Western Frontier, and Continental cuisines. This place especially has a good taste in kebabs and sizzlers.
Apart from all these, there is also a separate seating section inside mainly for those to be inside or in case of rain or cold.
Address:- 8A & 8B, Lindsay Street, Lindsay Hotel, Opp New Market.
Famous Food:- Afghani Gosht, Mutton Bhuna Gosht Sizzler, Calypso Fish, Kung Pao Chicken Sizzler.
Cost for two:- Rs 1,600 (approx) with alcohol.
9. Ozora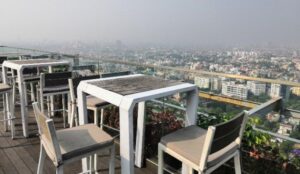 This beautiful restaurant is located on the 20th floor of the Acropolis mall in Kolkata's Kasba area.
This restaurant is known for its spacious interior, its terrace Skydeck and they have a menu with a wide range of options, they described this as eclectic.
Here they have a variety of seating areas like cosy private dining areas, a plush boardroom, spacious banquet areas, and lovely poolside seating.
Many of our city people were to go here. Reasons to go are from the island bar to the sundeck, to the heady cocktails, and the delicious food there are many reasons to pick this rooftop restaurant. This place is also great for dates, cocktails parties, and even a get-together dinner with friends and family.
Address:- Acropolis Mall, 1858, Rajdanga Main road, kasbah, Kolkata
Famous Food:- Bacon Pizza, Peri Peri Chicken Pizza, Mocktails, Cocktails, Tikka, Crispy Chicken and Prawn
Cost for two:- Rs 2,700
10. Afraa Restaurant and Lounge
In the Saltlake area, there's a restaurant named Afraa, it is also a stop that features our top list of rooftop restaurants in Kolkata.
The lounge and restaurant are located on top of one of the highest points in the mall.
Here they have quite a small terrace area but we recommend you book a table early to get outside seating.
Inside they have all-around glass walls that cannot be ignored the walls that overlook the Skydeck outside and the rest of the city around it.
Here the lounge is a very popular haunt for Friday and Saturday nights, with a dance floor, a stocked bar, shisha served at the table, DJ spinning the latest tracks, serve to the table.
Address:- 6th and 7th floor, Block G, City Centre 1, Saltlake Sector 1, Sector 1, Salt Lake.
Famous food:- Pizza, Sandwich, Cocktails, Calamari, Salads, Teriyaki Chickens, Bronze
Cost for two:- Rs 1,800
11. The Orient
One of the most popular restaurants in town at City Centre 1 itself, found to be on the opposite side of Africa is The Orient. The best thing you will notice that this place is the interesting decor and Oriental menu. We all know Kolkata is very famous for Chinese eating, you will get all kinds of customer in Kolkata who loves to eat specific kind one that has a lot of Indian and hacker influence and streams to get into most of the Oriental and Pan Asian food here.
Yes so if you are looking for something that is less Indianised, then this place is a great option for you.
This place has an open-air seating area, an artist that opens to the greenery and shows you the full Salt Lake area. It is a little far from the crowded place of the main city.
In this restaurant, we will get live sports screenings, live music, a full bar, and buffet options for those who want to eat like there is no tomorrow. I suggest you, people, if you all want to enjoy a night under the sky, then the Orient deserves its place.
Address:- 4th floor, E Block, City Centre 1, Sector 1, Saltlake.
Famous Food:- Fish, Mocktails, Sushi, Noodles, Salads, Lamb, Chicken Momo
Cost for two:- Rs 1,700
12. Capella – Altair Boutique Hotel

This restaurant will give you the feeling of Dubai and Abu Dhabi.
Here all they have is just like Dubai. A rustic rooftop with miniature palm trees, and a dusky purple sky lining all four sides of the terrace with warm sand-toned colours around you accenting the scene. This scene perhaps belongs in a more exotic setting like Abu Dhabi or Dubai, but actually, we can see this scene right here in Kolkata's Altair Boutique hotel at their airbag and open-air restaurant Capella. The exotic luxury place always considers that we are in India. As we know the word exotic cannot be used too easily.
So if you want to be high above the rest of the city, if you want to taste this luxury, then make sure to book a table at Capella restaurant.
It is located in Sector 5 of Kolkata, at the
Ambuja Neotia
's EcoCentre. It gives you the idea of the quiet scene and charm of the surrounding area. Here they have the team of Bollywood their various posters from Bollywood to Satyajit Ray's which makes the wall classic and take you back to that time, the history of Indian cinema. I say If you want the best rooftop restaurant in Kolkata make sure you don't miss this luxury experience.
Address:- 20th Floor, Altair Boutique Hotel. EcoCentre Ambuja Neotia, EM 4, Sector 5, Kolkata
Famous Food:- Brownies, Mocktails, Cocktails, Hot Chocolate, Gulab Jamun, Pepperoni Pizza, Lunch Buffet.
Cost for two:- Rs 1,600
   13.  Level Seven, Topsia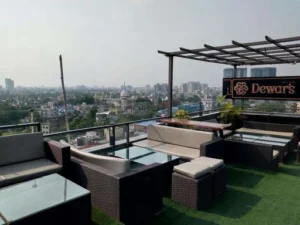 This place is located on the seventh floor of the wonderfully named Wizard House is Level Seven. A
Double-decker
ga earn launch that has Game of Thrones-inspired furniture. This place has yummy and tasty food and drinks and fabulous views of the Kolkata Skyline.
This place is divided into two levels – Ek covered fine dining area where you can sit and have fun another is a view of the city while you dig into your food ab which is a rooftop deck where you can party with your favourite cocktails!
 You can night out with friends or have a meal with family, there is something that you can enjoy out there.
Address:- 9/1/1, 7th & 8th Floor, Wizard House, Topsia, Kolkata
Famous food: Cheese Smoked Fried BBQ Wings and Makhani Mac, Murgh Biryani, L7 Signature Flaming Pizza, Tandoori Gondhoraj Bhetki
Cost for two: Rs 2,100 (with alcohol)
14. Smoke Shack
Ballygunge pride is Smoke Shack, a completely stylish rooftop cocktail lounge with an eating view of the infinity pool, this place also has a well-stocked menu of all famous international dishes. It prides itself on its
barbecue offers
, Smoke Shack has a top-quality grill and tandoor items. They also host several barbecues in the winter, with eye-catching views of Kolkata city. This rooftop restaurant has one of the prettiest rooftop restaurants that the city of Joy Kolkata has to offer.
Here they have music on certain nights as well as a DJ setup also a dedicated dance floor.
Address:- 7th floor, Radisson Kolkata, 17 Dover Terrace, Garcha, Ballygunge
Famous Food:- Ajwaini Jhinga, Murgh Ke Sholay, Breez shacks Cocktails, Jamaican Pork Chops
Cost for two:- Rs 3,000 (Approx) with alcohol
 15. Alfresco – The Lalit Great Eastern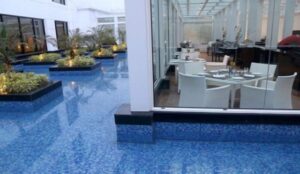 Alfresco, this place has an in-house terrace restaurant in The Lalit Great Eastern Kolkata's formerly Great Eastern hotel. Though it's not exactly a rooftop restaurant. It has a terrace that gives you a distinct inside-outside feel that is a trademark of mini hai and architecture and fine dining places.
Kolkata's formerly Great Eastern Hotel – The Lalit Great Eastern is a four-star hotel, so obviously you can expect some truly spectacular service, great food with a luxurious atmosphere all around. This restaurant is situated in the Dalhousie area near the Esplanade area of Kolkata, as Esplanade is a Central point of Kolkata so it is very easy to reach there. They also serve a great Sunday brunch that can make your Sunday more amazing, they have a bar available so whenever you are in the mood to drink you can come and enjoy your drink here. This please can fulfil all your needs and you feel wonderful to check off all your boxes when it comes to open-area restaurants in Kolkata.
Address:- Radisson, 17, Garcha Road, Ballygunge, Kolkata
Famous Food:- Pasta, Mocktails, Cocktails, Beer, Wine, Teriyaki Chicken, Non-Veg Kebab Platter
Cost for two:- Rs 3,000
If you're looking for a budget-friendly rooftop dining experience in Kolkata, you're in luck! These affordable rooftop restaurants offer delicious food, great ambience, and panoramic views of the city—all without breaking the bank. Here are some frequently asked questions to help you plan your visit:
Q1: Are cheap rooftop restaurants in Kolkata worth it?
Absolutely! Affordable rooftop restaurants in Kolkata offer a fantastic dining experience with stunning views and delicious food at reasonable prices. They allow you to enjoy the charm of rooftop dining without straining your budget.
Q2: How can I find the best deals at these restaurants?
Many affordable rooftop restaurants in Kolkata offer special deals and promotions, especially during weekdays or happy hours. Keep an eye on their websites or social media pages for the latest offers and discounts.
Q3: Do I need to make a reservation for cheap rooftop dining?
While reservations may not be mandatory at budget-friendly rooftop restaurants, it's a good idea to call ahead, especially if you plan to visit during peak hours or with a large group. This ensures you have a table waiting for you.
Q4: What type of cuisine can I expect at these restaurants?
Affordable rooftop restaurants in Kolkata typically offer a mix of cuisines, including Indian, Chinese, and Continental. You'll find a variety of dishes to suit different tastes, and the menus are often designed to be budget-friendly.
Q5: Can I enjoy the rooftop experience during the daytime at these restaurants?
Yes, many affordable rooftop restaurants open for lunch service, allowing you to enjoy the views and ambiance during the daytime. It's a great option if you prefer dining in natural light.
Conclusion: Affordable Rooftop Dining in Kolkata
In the vibrant city of Kolkata, you don't need to empty your wallet to enjoy the beauty of rooftop dining. Affordable rooftop restaurants offer a delightful blend of good food, panoramic views, and a pleasant atmosphere—all while keeping your budget in mind.
Whether you're planning a casual meal with friends or a cozy dinner date, these budget-friendly rooftop spots have something to offer everyone. So, go ahead and explore the charm of affordable rooftop dining in Kolkata, where great experiences need not come with a hefty price tag. Enjoy your meal and the stunning views!