Gold price fell on Wednesday from the US Federal Reserve's last policy meeting.
Gold price opens on Wednesday 19-8-2020 with a fall as the market opens today. At around 10.15 a.m. gold was trading at rupees 53,235.00 per 10 grams on Multi Commodity Exchange (MCX) it is falling by about Rs 336.00.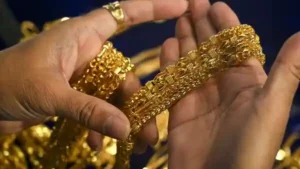 On the other side Silver price also
drop down
by a big margin, silver was trading at Rs 68,382.00 per kg and now it's a fall of 1,123.00.
Want to Invest now in gold? 
If you are thinking to invest in gold and silver then this can be a good opportunity.  You might get 20 percent or more returns after a year by investing in gold.
It is to be said that gold can trade between 1850 and 2000 dollars per ounce for the next month. But if you invest now for a year then the chances of getting a 15 to 20% return comfortable.
Experts believe that by Diwali the price of gold may set a new record.
According to the report given on the economic, epidemic, and political conditions, it is highly believed that gold can touch the level of 70 thousand rupees by Diwali. Even if the Karuna waxing arrives there is still a lot of time to improve the global economy.
Gold Price
In July investment in gold exchange-traded funds increased by 86% to Rs 921 crore as compared to the last month.
In this Pandemic situation, the confidence of investors is increasing in gold due to this the rising price of gold investors is moving towards gold.
According to the data investment in gold ETFs has risen to Rs 4,452 crore in the
first
7 months of the financial year.
The yellow metal closed at Rs 54,909 per 10 grams in the previous trade.
Silver prices also faced selling pressure and declined by Rs 3,112 to Rs 69,450 per kg from Rs 72,562 per kg in the previous trade.