Coronavirus India: It has been cleared from the discussion that there is an urgent need to ramp up testing of coronavirus in India states like Bihar, Gujarat, Uttar Pradesh, West Bengal, and Telangana PM Modi Ji said.
Points to Note:-
• Around 10 state accounts for over 80% of active COVID-19 cases pm said
• This is PM's Seventh such interaction with the chief minister on COVID.
Now it's clearly seen that India will win against coronavirus if 10 state defeats it, today Narendra Modi Ji spoke to chief ministers of 10 states in a
virtual
meeting to review the coronavirus situation around 10 state count for moreover 80% of the active COVID-19 cases in the country and this is the seventh interaction with chief ministers on the case of coronavirus.
Coronavirus India
He says that if we defeat coronavirus in 10 states the nation will win and we all will be free from this virus. The discussion, also states that there is an urgent need to ramp up testing in Bihar, Gujarat, UP, West Bengal, and Telangana.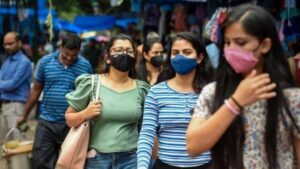 The chief ministers of Maharashtra Andhra Pradesh, Bihar, Gujarat, UP, Telangana, Punjab, Tamil Nadu, and West Bengal attended the meeting which began at 11 a.m. the meeting comes after "unlock 3" or the third phase of the lifting of coronavirus related restrictions across the country begin last month.
PM Narendra Modi now says that if we identify COVID-19 cases within 72 hours of onset then infection slows down to a great extent. He truly believes that our experience so far is containment, contact tracing, and surveillance are the most effective weapons against COVID-19.
The highest number of cases is in Maharashtra second is in Tamil Nadu and the third is in Andhra Pradesh respectively.
Today in the meeting all the chief ministers updated PM Modi about the ground situation in the states.
From yesterday's meeting with chief
ministers
of flood-affected states, they asked  PM Modi to raise concerns over rescue efforts aimed at the pandemic situation saying that States must ensure that people follow all health precautions such as wearing face masks and sanitization and maintaining adequate physical distance from each other.
He says that the best way to get relief from this virus is to wear your mask every time while talking to others and Keep washing or sanitizing your hands.